String trio works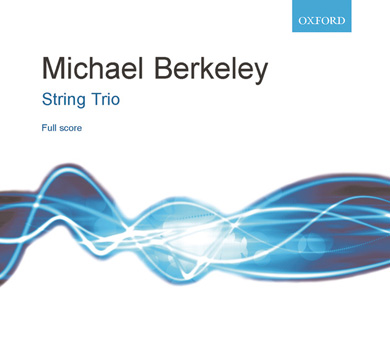 String Trio
For violin, viola, & cello
Published by
Oxford University Press
Duration: 15 minutes

In 1976 I began studies with Richard Rodney Bennett who had in turn been taught by my father, Lennox Berkeley. It was generally agreed that Lennox was too nice and gentle a person to be of much use to me at this particular point. Whilst I had learnt an enormous amount from him over the years, I now needed the sort of disciplined guidance in technique that is, in most instances I think, very hard for parents to give to their own children.

On day one of my sessions Richard looked at my scores and asked me what I was thinking of writing next. Like many students I suggested an orchestral work. Realising that my problem was not a shortage of ideas but rather the lack of a technique with which to select and develop them, Richard replied that he had in mind a somewhat smaller scaled piece with just one or two lines so that I could not resort to mere gesture - in particular percussion! Not being a complete fool I opted for a Trio (rather than a duo) and over the course of the following months I re-wrote this String Trio eleven times until I could justify the presence of every single note. It was a hard but useful experience and I was mighty relieved to be told that "we will not need to do that again".

Ever since I have had something of a soft spot for this two movement work which is dedicated (with much gratitude) to Richard Rodney Bennett.

A three bar theme introduces the first movement which is deliberately worked almost entirely in step-by-step crotchets. The Allegro that follows is more spiky and angular but has a lyrical central passage in 3/8 which is rather like a speeded up and inverted reference to the slow three in a bar with which the Trio opens.
© Michael Berkeley