Winter Fragments Chamber Music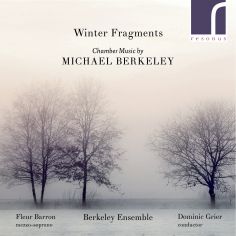 In Berkeley's 70th birthday year comes an attractive disc of five chamber pieces, performed by the eponymous ensemble dedicated to his music and that of his father, Lennox. These range from the 1983 Clarinet Quintet, with its medieval-pastoral strain, to an impassioned Rilke sonnet setting for mezzo-soprano and cello: Barron compels here and in the seven Winter Fragments (1996). The wind quintet Catch Me If You Can (1994) makes a spruce opener.
Paul Driver, The Sunday Times, 7 October 2018
The Clarinet Quintet (1983) is spun from sinewy, twisting strands contrasting the playful impetuosity and dark-hued luminosity of John Slack's clarinet to end in a moment of sublimely subdued beauty.
Michael Quinn, Classical Ear
The Berkeley Ensemble, conducted by Dominic Grier and dedicated to music of the 20th and 21st centuries, provides endlessly responsive playing, whether alone or as part of the Winter Fragments song cycle, sung by Fleur Barron, who is also exceptional in the Sonnet for Orpheus (from Three Rilke Sonnets).
Fiona Maddocks, The Observer, 18 November 2018
Even when working with large-scale forces such as opera and music theatre, Michael Berkeley's style and expression remain attuned to the more intimate nuances of chamber music. Perhaps this is because the chamber context provides such an effective vehicle for one of his music's most distinctive features - the often dichotomous interplay between the individual and the group... the Berkeley Ensemble, directed by Dominic Grier, are excellent throughout - entirely at one with the music of their namesake composer.
Pwyll ap Sion, Gramophone, December 2018
Winter Fragments: Chamber Music by Michael Berkeley is available on Resonus RES10223, released 28 September 2018