Nocturne: Music & Poetry Recital in Barnes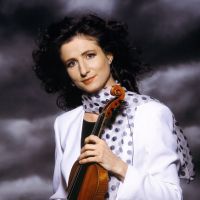 Violinist Madeleine Mitchell, described by The Times as 'one of the UK's liveliest musical forces', created this wonderful programme together with distinguished Barnes poet and librettist, David Harsent, on the theme of Night. Included is Berkeley's 'Veilleuse' and the world premiere of a piece for violin and narrator celebrating nocturnal Barnes. Evocative music for violin and piano alternates with Harsent reading poems from his award-winning collection Night, plus the exquisite 1917 '3 Pieces' for violin and piano by Howells, including a Russian Lament. BMF regular Marc Verter is the pianist.
Nocturne: Music & Poetry Recital in Barnes took place at St. Mary's Church, Church Road, Barnes, London, SW13 9HL on Monday 13 March 2017.