Festival of Nine Lessons and Carols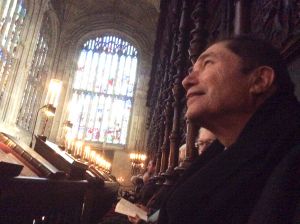 Michael Berkeley was commissioned to write a new Carol for 2016's Festival of Nine Lessons and Carols. It was broadcast around the world on Christmas Eve from King's College, Cambridge.

The anonymous C1400 text, This Endernight, is unusual for a carol in that it articulates the voice of the infant Jesus in dialogue with his mother. Ender or Endris means past or recent. Maternal feelings of tenderness are in abundance but there is also a knowingness about the importance of the event that is unfolding. It is an upbeat lullaby which looks forward to heavenly bliss and so culminates in a radiant cadence.
Festival of Nine Lessons and Carols recorded at King's College Cambridge, King's Parade, Cambridge, CB2 1ST broadcast on Saturday 24 December 2016.
A digital download of This Endernight is available to download from iTunes.